Regular price
Sale price
$100.00
Unit price
per
Sale
Sold out
Share
The sephirot corresponding to Everywoman's body.
In typical medieval fashion, similar to the astrological signs, qualities, biblical characters, and areas of the body are associated with the various sephirot, the "emanations" from God. But these are always depicted upon the body of a man. Here, they are imagined upon the body of a woman: Hesed or loving kindness on one breast, Gevurah or limits depicted upon her other breast (weaning, or the protected boundary of her own body) Tiferet, or perfect balance upon her heart, which is connected by the Hebrew letter vav to her womb. Netzach & Hod, Victory and Eternity are upon her ovaries, and Yesod/Malchut -- Foundation and Sovereignty upon her womb and generative organ connected to this world. These are things to think about, as is the purpose of a shiviti. The verse from Lecha Dodi sings: "Arise, sing a song for your light has come! The Glory of God upon YOU is revealed."
Specifications:
Giclee fine art print.
Size: 9x12".
View full details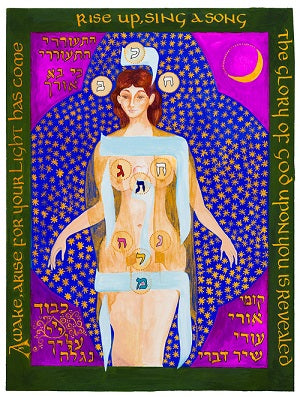 Shipping & Returns

Orders are processed and shipped via USPS within 3 business days. Standard and expedited shipping options are available in the checkout, and prices are calculated automatically based on your order. Returns accepted within 30 days. More info »